A history of manual Google penalties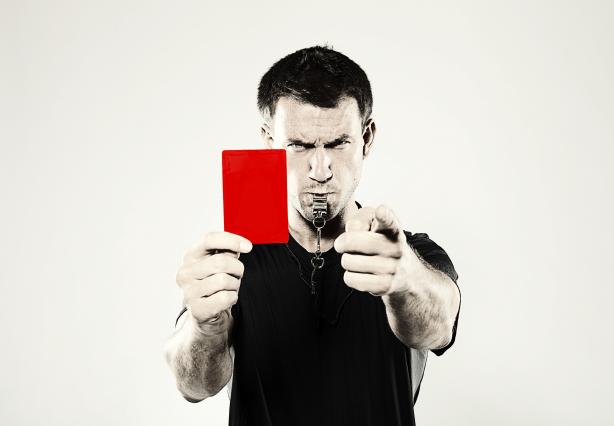 In 2012, Matt Cutts (formerly head of Google's web spam team) made an important distinction: your site can lose (or gain) visibility in the search results because of algorithmic changes, or it can be penalised by the human hand. In an interview with Searchengineland.com's founding Editor, Danny Sullivan, Cutts answered the question of whether the then-new Penguin algorithm is a penalty like this:
"We look at it as something designed to tackle low-quality content. It started out with Panda, and then we noticed that there was still a lot of spam and Penguin was designed to tackle that. It's an algorithmic change, but when we use a word like 'penalty,' we're talking about a manual action taken by the web spam team — it wasn't that… In fact, we don't use the word 'penalty' much, we refer to things as a 'manual action.'"
For those affected by these manual actions, especially if it's a site-wide manual action (or 'site-wide match'), there's little doubt it will hurt. It will definitely feel like a penalty – and a painful one at that. It means that the site you've spent ages lovingly building has been singled out by a member of Google's team for a violation of its Webmaster Guidelines. It's then very likely to sink rapidly in the search rankings, with your traffic taking a dip, too.
Some manual actions are partial ('partial matches') and won't affect the site's search rankings. Typically, this kind of action affects a number of incoming links to the site that Google considers potentially manipulative, a particular set of keyphrases which Google think are being over-optimised, or particular pages on a site which might be the beneficiaries of the optimisation. Partial actions can actually be rather useful and alert the site owner to possible negative SEO attacks that have been directed at the site or dodgy link-building tactics on the part of someone in the SEO team, but often they are just as punitive as a full manual penalty.
Google didn't always inform website owners that they'd been subject to a manual action. A sudden loss of visibility and traffic were the only clues that a site had been clobbered. But in 2012, during the months leading up to the launch of Google's 'over-optimisation penalty' (Penguin), webmasters started reporting that they were receiving warnings from Google of 'artificial' or 'unnatural' links. In fact, we now know that between January and February of 2012, Google sent out a mind-boggling 700,000 warning messages to webmasters.
At the time, SEO professionals were speculating that, with the launch of Penguin imminent, these messages were exclusively connected with artificial or unnatural links. By June, however, Matt Cutts (in a Google+ post) clarified that only 3% of those messages were about unnatural links. Well over 600,000 were related to "very obvious blackhat spam and under 25,000 of the messages were for unnatural links."
Even so, what became clear was that Google was now taking unprecedented action against violations of its Webmaster guidelines. In August 2013, Google announced that its Google Webmasters Tools (GWT) resource would now contain a new 'Manual Actions' section. Manual action notices would thereafter be posted to the GWT inbox so that webmasters would know for sure whether they'd been hit by a site-wide or partial penalty. This inbox makes for some very nervous reading – while some people have knowingly resorted to the blackhat tactics Google deeply disapproves of, many others have simply made clumsy and unwitting SEO errors due to naivety or lack of knowledge.
So how do webmasters fall foul of Google? There are ten fundamental reasons for manual actions. If webmasters want to rescue their site, they'll need to begin by finding out which guideline has been breached. Each one of the following is considered by Google as a direct violation of its guidelines:
Unnatural links to the site: This will result in a site-wide action. It arises because Google has detected artificial or manipulative inbound links.
Specific unnatural links to the site: This is less painful than the bruising site-wide links penalty. It occurs when Google discounts specific links to the site that it suspects are unnatural or manipulative. Just the dodgy links will be hit, not the whole site.
User-generated spam: Keep a close eye on forum or blog comments. If Google senses they have a whiff of spam about them, the site will be blasted.
The site has been hacked: Malicious content is the key to this one. If Google finds content that is incompatible with the site as a whole, it will conclude that the site has been hacked.
Thin content (minimal to zero added value): If the site contains doorway pages (pages made purely for SEO purposes that take human searchers to one page but encourages Google's bots to go to another), automatically generated content, or content scraped from elsewhere, expect to be hit hard. Google really doesn't like this.
Spammy freehosts: If most of the site reeks of spam, Google will brand it a spam site and issue a site-wide manual action.
Unnatural outbound links: Self-explanatory. If Google finds them (and it probably will) the site will be clobbered.
Sneaky redirects and/or cloaking: Redirecting visitors to a page that Google doesn't see, or presenting different URLs or content to human visitors and search engines is strictly verboten (because users end up with different results than they were expecting).
Keyword stuffing and/or hidden text: Overloading a page with keywords to push rankings up and/or hiding text from human users but showing it to search engines are both deeply disapproved of by Google and will definitely result in a manual action if detected.
Aggressive spam: If Google finds scraped content, or detects cloaking and other violations of its guidelines that it considers flagrant (blackhat), expect the web spam team to apply a manual action.
It may come as some comfort to discover that it's not simply chancers, novices and small websites that have been hit by manual actions. Some big and prestigious names have also found themselves in Google's bad books (including, strange as it may seem, Google itself).
Below we've put together a timeline to show the brand names that dared to fight with Panda and Penguin, risked bending the rules...and lost. Google's been around since 1998, and became the daddy of all search engines a few short years later, so we'll start with 2002.
Brands Google has penalised: a history
November 2002: SearchKing
A minor but significant rival search engine, SearchKing participated in a big network sponsoring the monetary exchange of links in 2002. Google found out and slashed its PageRank from 8 to 4. This frankly trounced its visibility and it lost a massive amount of traffic from Google. SearchKing did eventually recover its PageRank, but it took four years (and an unsuccessful attempt to sue Google) to achieve this – by which time it had been almost completely forgotten.
March 2005: Google AdWords
Yes, it really happened. Google gave itself a thrashing when AdWords was judged guilty of cloaking by the web spam team. In addition, this wouldn't be the only occasion where Google would punish itself. However, the thrashing and self-flagellation were definitely exaggerated. The duration of the effect (removal of their own pages) was not specified, but it was very brief.
March 2005: WordPress
In the very same month that Google gave itself a slap on the wrist, it penalised one of the most popular content management systems on the net – WordPress. The reason? WordPress had actually fallen victim to a third party site which exploited its authority to post 100,000 articles on the WordPress domain – all of them stuffed with concealed (and irrelevant) backlinks. The penalty was short-lived and lasted for just two days.
May 2005: Webposition Gold
This was an SEO software tool that sent automated queries for testing popular search terms. Google really didn't like this practise because it ate up too many of their resources. The site wasn't just slapped – it was totally de-indexed. In fact, it prompted Google to rewrite its Webmaster Guidelines. Webposition Gold survived, but it had to make many adjustments to regain Google's favour.
February 2006: BMW
The German car giant was punished for the notorious blackhat tactic of cloaking (tricking Google's crawlers into 'seeing' one highly-optimised doorway page, while showing a different page to human visitors). The penalty was harsh. BMW was totally de-indexed. Luckily for BMW, it only lasted a few days
October 2007: Forbes, Washington Post, suntimes.com, etc.
Strictly speaking, this was an algorithmic penalty, but we think it has a place here because it's almost certain that the algorithm change that caused it was devised specifically to target the affected sites. 'It' was actually a slew of penalties that hit a lot of newspaper and magazine sites. Their shared misconduct? Messing about with perhaps the single most important signal used by Google to determine ranking – buying and selling links. Google briefly refused to rank any of them at all.
July 2008: Newsday
A famous NY-based national newspaper, Newsday was also caned for link manipulation (it sold irrelevant, spammy links on the footer of its site). The penalty was very short-lived, but it did result in significantly reduced visibility.
February 2009: Google Japan
In 2009, Google had another bout of self-punishment. In Japan, Yahoo was the dominant search engine in 2009 and Google wanted to do something about it. Therefore, Google Japan began slipping dollars to bloggers if they wrote about the wonders of Google. One of these wonders, of course, is penalising webmasters who try to manipulate search engines by buying backlinks. Uh-oh.
February 2011: JC Penney
One of the most established and famous clothing retailers in the US, JC Penney was actually exposed by the New York Times for paying for links that increased their ranking significantly. The penalty lasted for three months and resulted in a nosedive in the company's rankings and visibility.
February 2011: Overstock
JC Penney wasn't the only big brand guilty of link manipulation in February 2011. E-commerce giant Overstock was also punished for exactly the same thing – it had been offering students 10% discounts on the condition that their university website embedded a link with the anchor text 'gift baskets' or 'bunk beds.' They were after the coveted '.edu' backlink, which search engines consider to be of exceptionally high authority and trust, but Google considered this an example of link buying. Overstock's rankings and visibility plummeted, and it spent two months in the wilderness.
March 2011: Beatthatquote.com
Link buying was sniffed out by Google's web spam team on this price comparison site, and resulted in a two-week long stay in the search wilderness. Beatthatquote.com even managed the unusual feat of being slapped with another penalty on the day the first one was lifted (it hadn't cleaned up the spam detected on the first occasion). This was ironic, as Google bought the company just a few hours before issuing the penalty.
January 2012: Google Chrome
Breaking its own rules again, Google removed its own browser from the first page even for branded searches – plunging itself into the murky darkness of page 7 because it had been buying links. Tut, tut. The penalty lasted for two months.
February 2013: Interflora
This one must have really smarted. Google totally de-indexed the famous flower vendor just a few days before one of its most important seasonal high-points – Mother's Day. To be frank, the penalty (which lasted a month) wasn't without foundation. Interflora was definitely trying to game the system, paying for 150 or so advertorials (with embedded links) on regional news sites. Buying ads on another site is fine, but hiding links in the ads makes Google very cross.
March 2013: The BBC
The biggest broadcast news organisation on the planet discovered that it wasn't above receiving a boot in the derriere from Google. Actually, the BBC wasn't responsible for this one. Smaller news sites had picked up the RSS news feed it had set up on its website and published it on theirs. However, Google thought they were being gamed and that the BBC was trying to manipulate the search rankings. Given that something like 30,000 links suddenly appeared relating to a single news article, this wasn't an entirely unreasonable conclusion. The penalty was, however, not a big one (it was 'granular') and it was very short.
April 2013: Mozilla
Mozilla took a hit because its users (not Mozilla itself) were generating blog comment links. Like the BBC, this resulted in a short-lived granular penalty, not a site-wide match (only one out of 22 million pages was affected). Google strongly disapproves of user-generated spam like this.
April 2003: Sprint
The big US wireless provider Sprint was penalised by Google for the same thing as Mozilla – blog comment and forum links. Just like Mozilla's penalty, Sprint's was also granular and brief.
December 2013: Rap Genius
Song lyrics site Rap Genius received a nasty Christmas present on Santa's busiest day – they were caught red-handed at TieFating (exchanging links for tweets) by university student John Marbach, who wrote about it on his website. Rap Genius's owners promised to tweet sites which agreed to hide links containing the anchor text 'Justin Bieber lyrics.' Given that it had over 150,000 Twitter followers, it is easy to see why so many site owners agreed to take part. Google imposed a week-long penalty that hurt Rap Genius's rankings and visibility. As we noted earlier, it doesn't like hiding links.
January 2014: Irwin Mitchell
UK law firm Irwin Mitchell joined Expedia in getting off to a bad start to the new year, after Google discovered a bevy of dodgy SEO tactics on its website site. These included a slew of unnatural (bought) links in the company's link profile, anchors stuffed with keywords and slapped awkwardly in irrelevant guest blogs, and link-loaded blog comments. The penalty? It was an eye-watering one – total de-indexation for a month.
February 2014: Halifax
It may be one of the most respected and established banks on the planet, but it seems that Halifax wasn't above experimenting with some low-quality SEO tactics. An HTML banner was spotted containing numerous keyword-laden links, all of them pointing to different pages on the Halifax site. Neither Google or Halifax has made any formal announcement about why the penalty was applied, but we know that the bank had a big drop in rankings for a raft of its keywords and that the penalty lasted for three months.
May 2014: eBay
This mammoth of an online retailer was slapped with a penalty that moved many of its pages into the murkier depths of the search results. The penalty is still continuing, but mystery surrounds the reason it was applied. It seems likely that it had copied a trick from BMW and built misleading doorway pages on its site – but neither eBay nor Google have confirmed this.
Sources:
http://www.forbes.com/sites/jaysondemers/2014/06/16/the-definitive-guide-to-google-manual-actions-and-penalties/
http://searchengineland.com/live-blog-you-a-with-matt-cutts-at-smx-advanced-123513
http://linkarati.com/google-manual-penalty-large-brands/
Posted: 30/10/2014